Recent Posts
Archives
Tags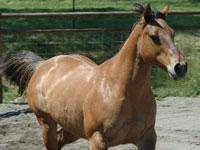 The goal of Equine Guided Coaching is not to "get the job done." Learning is what it's all about. Often that learning is profound, whether the assigned task with a horse was completed or not.
Let me give you an example from my own life:

Several years ago, when I was just starting to do this work, I was in California training with Ariana Strozzi, one of the pioneers in Equine Guided Education (EGE). Each of us in our group of ten was to come up with a declaration about our life or our business and, one at time, go up and ask Yani, a beautiful buckskin mare, to move around us in a circle on a 20-foot rope attached to the horse's halter. First we were to say our declaration, then ask Yani to move out ...